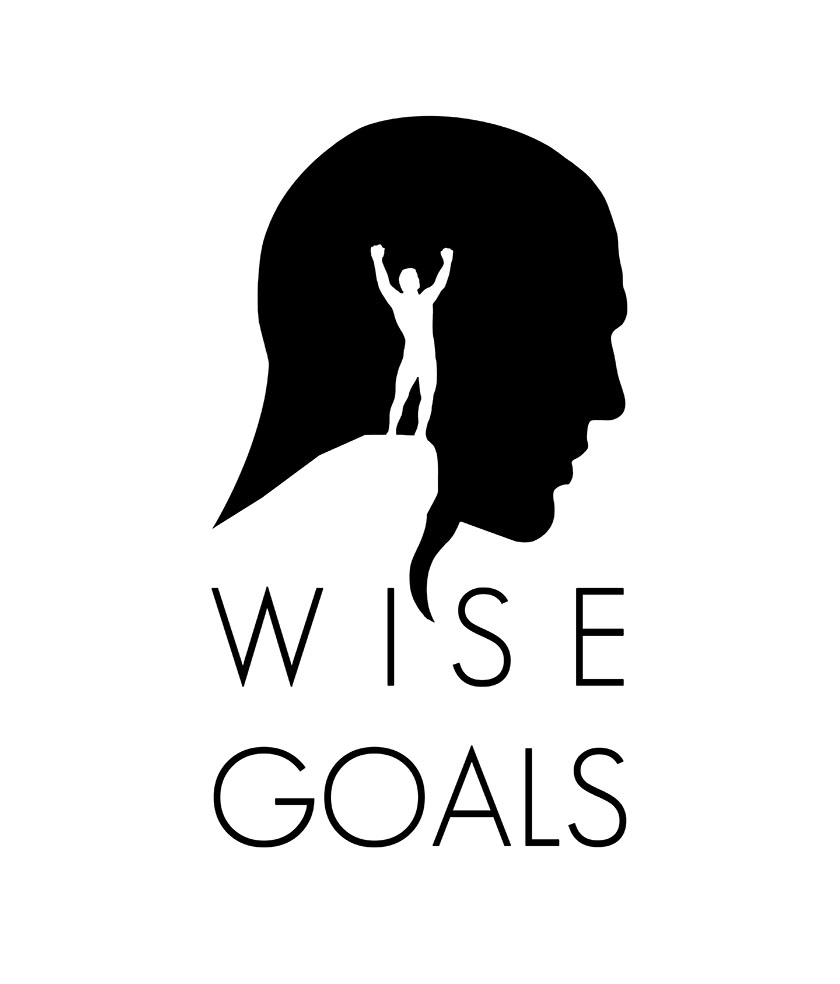 Free SMART Goal Setting Worksheet to make your goals More motivating
-   By James Stevenson (MSc, IEA) - EMCC Accredited Coaching Psychologist and Positive Psychologist
Download your smart goal setting worksheet here for free
I always keep my worksheets simple and effective and this smart goal setting worksheet is no different. You can download the PDF below and also glance at a picture to see if this is what you are looking for before you download.
Whether you're a student, an employee, or an employer... you can make your goals specific, measurable, attainable, personally relevant, and timed using the questions.
A blank copy of the worksheet above can be downloaded here for free. 
A few points to help you get the most out of this worksheet

A goal that is SMART has a much greater chance of motivating us so it really pays to take the time to think and find creative ways to make your goal easy to measure.

Attainable is a bit of an awkward concept. Attainable we want but super easy we do not want. Reasonably challenging in a way only we know is right for us is the ideal.
The most frightening part for us is often the timed part. Setting a date can be scary for sure. I guess because without the date there is no official point of "failure" but there is also no sense of drive and determination.
However, I suggest that even when you do set a goal and don't reach it we are 100% not a failure! The timed aspect is simply a tool that naturally creates increased inner motivation and creativity. We can set a date and time without a worry in the world and let it begin to work it magic on us. 

About the scaling questions (1 to 10) on this SMART goal worksheet 
The scaling questions such as "How meaningful is this goal to you on a scale of 1-10" is intended to create awareness.
When your response is 8-10, you'll tend to feel more confidence, and a higher chance of action. When the response is lower like 3-5, sometimes people move quickly to plan B, i.e. "Ok. then I'll do this instead". However, sometimes you might become temporarily deflated. This is unfortunately unavoidable in goal journeys.
There are a number of things you can do in this situation. You can ask yourself:
What makes it a "4 and not a 2?". This often removes some of that deflation straight away.
You can also ask, "how might you get from a 4 to a 6"?. This can be empowering and create forwards momentum.
On the timed bit 
The idea of deciding "when" can often be an obstacle. Take some of that pressure of yourself and remember goals are usually not meant to be reached, but instead, they are meant to cause movement and progress.
Choosing "when" awakens many things that help your goal progress. The purpose of choosing a date is really to cause yourself to see things differently, and do things differently.
Try to have a very relaxed approach to whether it actually happens on that day and time. Think to yourself, have I made more progress than I would've done without this goal? and start counting all the great things you've been able to do!
Alternative smart goal setting worksheets (older ones)
Worksheet 1
Worksheet 2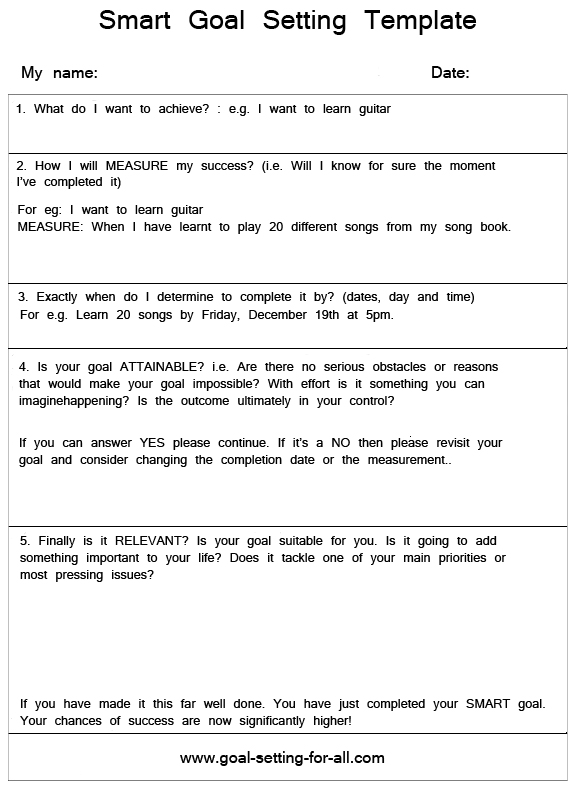 The next steps
1. Once you have thought about and clearly established some solid SMART goals why not also print one of my goal setting worksheets and explore your goals in more ways there. I usually stick it on my wardrobe so I see it in the morning when I get changed and in the evening when I'm getting ready for bed. You may be thinking of a place you could put your goals now. It really makes a big difference when our goals and etched deeply in our life.
2. Make inspiration a part of your daily routine. As well as having goals that genuinely excite you reading something that motivates you to carry on can be a big help as well. You can this words of wisdom site, and this great quote site.
3. Be flexible and adjust your goals as necessary. Get the balance right so you feel proud of the efforts you are making while not obsessing over quick results.
---