6 Clear and Useful Goal setting templates!
Are you looking for something to write your goals on? Goal setting templates in all shapes and sizes? 

Goal setting templates can be anything really. The variety is as endless as your imagination...
Below you'll find:
Your top three goals - to go through your main 3 goals in some detail

Thinking through your long term dream - think in great detail about one of your long term dreams
A goal card template for any time-frame
Pocket-sized daily goal cards (credit card size)
A lifetime goal list sheet (A4)
Smart goal templates
You can download all these goal setting templates below. 
1. Your top three goals
Click here to download the printable PDF file for the worksheet above.

2. Thinking through your biggest dream
Click here to download the printable PDF file for the worksheet above.

3. Simple goal template for any time-frame
or
 2. download a larger one to place on your bedroom table, your wall, your work desk like the picture above.

---
When thinking of short-term or long-term you can consider many factors such as how much free time you have, your health, and your personality.  
For some people, lots and lots of immediate pressure is exactly what they want and need. For some just a little bit of a push is preferable. It's wise to think how much pressure you want and choose a goal that is a good fit for you.
A typical short-term goal could be anywhere between a week and 3 months. The more time you give yourself, the less pressure. Finding your own personal "just-right" to make you move in way that you're satisfied with is the key to victory in the long run.

4. Little pocket-sized daily goal cards
Click here to check out some daily goal cards. These handy little cards will fit in your wallet or pocket. An A4 page is 8 little cards. It's the old website name on there but it's all good :-)
Do you use to-do lists? To create lists of stuff you want to get done right now? These little cards are like you're upgrading from post-it note to an 'executive to-do list' and you may just see a difference in the action you take.

5. Lifetime goal list
A simple template with 100 spaces to write in your 100 top goals that you wish to achieve in your lifetime. This is the equivalent to your bucket list.A list of your dreams and hopes. 
As you progress in each of your goals and grow you can always go back to it and find new directions.
Try and get at least 20 down as quick as possible thinking with your heart and not your head. You can always change it later.
All areas of your life; love, home, work, travel, training, learning, education, possessions, health, self-development, friendships. Don't ask yourself, is this possible? Simply, is this something I really want? If the answer is yes, add it to the list. Worry about the how later. 
After you have a substantial list go through each one and choose a time frame of 1, 3, 5, 8, 10, 15, 20 or more years. Then choose your top 5 one year goals and get started.   
6. Smart goal setting template
If you want a template that walks you through SMART goal setting making sure each goal you set is SMART then you can use some smart goals templates here.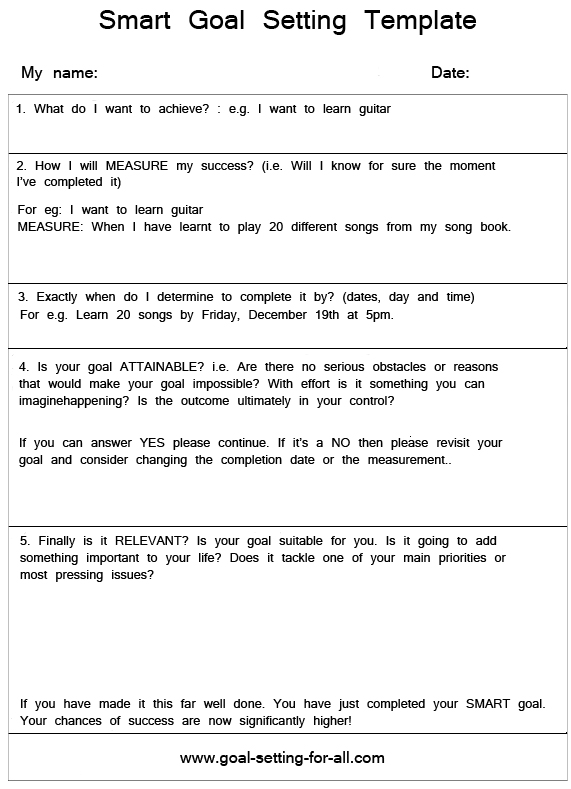 And finally...
Hopefully you can find a goal setting template here for your every need!
If you like here are some goal setting worksheets for a more detailed approach and also for a goal setting form click here.
I hope these resources serve to support you in achieving your goals!
---
Goal Setting For All
› Goal Setting Templates