Start Goal Setting right now in 5 simple Steps!
-   By James Stevenson   -
So you want to set some goals right now? Well, Congrats! These 5 simple steps will walk you through the whole thing...
Here I present goal setting in 5 simple steps. If you learn to practise these steps consistently the results will be clear for all to see.
Although very simple sounding, if you simply carry them out you are sure to make great progress in the direction of your choosing.
1. Pen. Paper. Begin.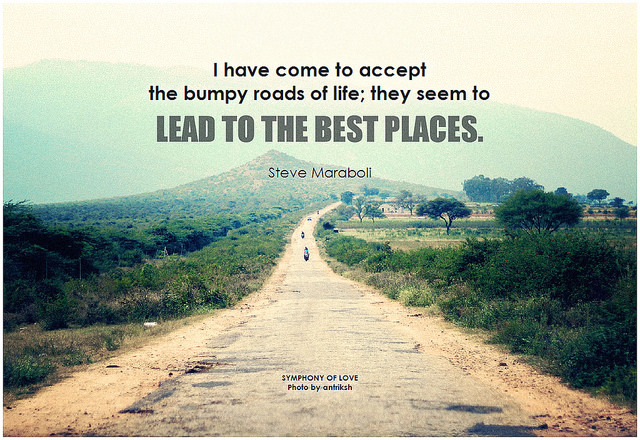 Where is your bumpy road taking you to? Have you decided yet?
If you haven't already, take the leap and write what you want on paper. It doesn't matter if your goals are HUGE or tiny.
Even writing down a single goal; something specific you want to achieve or do and when you'd like it to happen by is a good start. You have to be brave and just do it!
You can use these free worksheets to help you write your goals down.
2. Simple action steps to get the ball rolling
Look at your goal. As you glance at it see if you can think of some actions which you can take pretty much right away.
Something which springs to mind which would be easy to do but also a step in the right direction? Whatever it may be. Do it this week. Perhaps even do it today if that is viable.
It may be a one-off action or it may be the kind of action that doing regularly will help you reach your goal. No magic is required for you to reach your goal. It begins and ends with small actions.
3. Monitor and then adjust goals if necessary 
While beginning to take action you may begin to think that the goal isn't quite right. Maybe it's just too difficult. Or it's way too easy. It's all good! Be flexible. Adjust your goals as many times as you feel like until you get that "just right" feel.
To have a more thorough read around monitoring check out this page.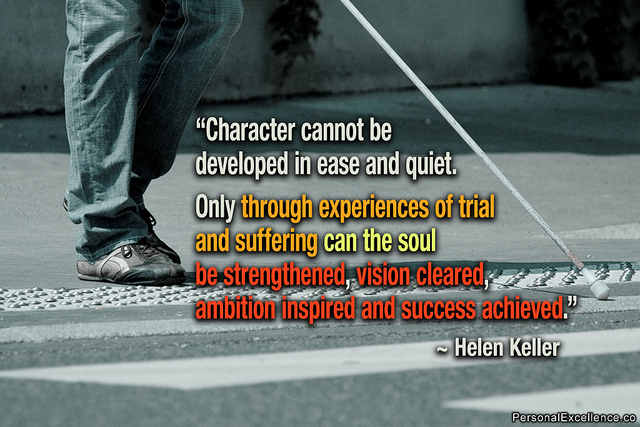 How important is the development of your character to you in life?
4. Reflect on the whole process and choose one potential improvement to act on 
Once the goal date is reached, whether you achieve the goal or not, reflect, write down a lesson learnt.
How motivating was the goal?  Did you feel a motivating force rise up in you?
Did you achieve more with the goal than before the goal?
Were there any unforeseen problems? Any creative solution you can come up with?
Did you learn something about yourself? Either positive or something to determine to improve?
Did you set too many goals? too few?
Did it put too much pressure on you? I.e. do you need to give yourself more time and a lower target in the future?
5. Use your realisation to re-set goals more wisely
By the time you get to this stage you may well want a little break. Or maybe even a large one! Especially if this is your first time setting a goal for yourself...
As long as you don't forget your dreams... As long as they are written down somewhere... As long as your lessons are recorded for next time... You can take a nice break completely guilt free!
...and then, a little wiser than before, make a fresh start in the direction you choose once more. 
These 5 simple steps to goal setting is a victory cycle. Each time you go through it you become better at setting goals. Because you know yourself better, and you know the dynamics of motivation better.
Ultimately you'll be one step closer to gaining mastery over the greatest enemy... your self! 
---
James Stevenson is the owner of WiseGoals.com. Living in the UK, but also working internationally on-line, James is also a highly qualified, experienced, and accredited trauma-aware wellbeing coach at TraumaAwareCoaching.co.uk. He works with clients in a future focused and solution orientated way by exploring what the good life or a flourishing life might look like for them. Harnessing that motivation, obstacles that come with trauma like the toxic inner critic, self-blaming, self-judgement, fear and avoidance, anxiety, depression, and intense and confusing emotions are worked through. More about James here.