Affiliate products. 
If you purchase a product through links on this page I receive a small commission at no cost to you. I was not paid for writing this review, and I did not receive it as a freebie. I'm suggesting it for you because I own it and love it, and I think you would too. For more info, please see this affiliate disclosure document.
Do you Consider yourself a leader in some way? then This Book is a Must read!
If you find yourself here I'd bet in some way, shape, or form, you're a leader of people...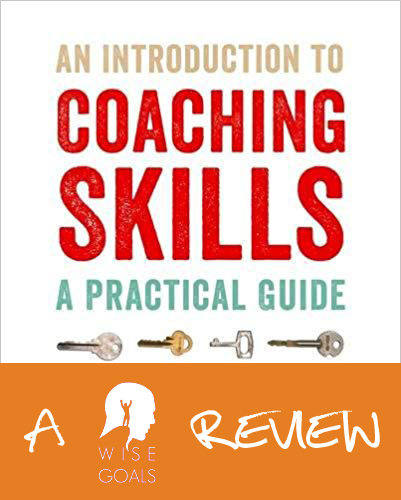 Maybe you're a teacher, a manager, a coach, a trainer, a business owner, a facilitator, a consultant, a parent...
You make people's goals, progress, growth, and achievement your business! 
A question you're often asking yourself is...
How can I support the people in my life to achieve more of what they're capable of? 
What more can I learn to be an even more effective leader?
When it comes to the skills needed to facilitate achievement in others and yourself I believe this book to be an absolute must read for coaches and non-coaches alike!

Affiliate products. 
If you purchase a product through links on this page I receive a small commission at no extra cost to you. I was not paid for writing this review, and I did not receive it as a freebie. I'm suggesting it for you because I own it and love it, and I think you would too. For more info, please see this affiliate policy.
This is a review of what has become my favourite book in the realm of goal setting, coaching, and personal development at the moment.
So - would I recommend "an introduction to coaching skills"?
Absolutely I would!
I've read plenty of books on goal setting and coaching... I bought this book two years ago and I've already read it multiple times... and I'm sure i'll read it many more times!
It's simply the best I've read so far and I can't recommend it enough! I have no doubt this will become a life-long reference for you in how to communicate with people in a way that supports their growth and achievement...
It's full of priceless information that means you'll never communicate the same way again, and the authors ability to be concise... to make each and every sentence worthwhile I found to be truly remarkable. All killer, no filler!
What are some reasons you'd want to read this book?
You'll learn so many interesting new ideas and concepts, practises and behaviours.
What you learn will support the richness of your human relationships and help you better support others and be better supported.

I found this book to be an impressive celebration and advancement in the positive elements of that which makes us human. It will re-ignite your curiosity about human nature and human potential and give you a greater respect for others.
"An introduction to coaching skills" is connected to an accompanying website with over 70 video clips. As you read, you'll be advised to watch supporting clips, and throughout the book you'll come across various activities to try out, and stories for real life practice.
This makes this book unlike any other I've read. It really begins to play an active role in your daily life and makes for an amazing unforgettable learning experience.
Summary of what's inside and the structure
This book is split as follows:
Chapter 1 - first things first (an intro to the book).
Chapter 2 - becoming a coach
Chapter 3 - listening to encourage thinking
Chapter 4 - asking powerful questions
Chapter 5 - paraphrasing and summarizing
Chapter 6 - giving and receiving feedback
Chapter 7 - coaching processes (conversational structures that can underpin powerful conversations)
Chapter 8 - Beyond behaviour - exploring our thinking
Chapter 9 - Bias towards the positive
Chapter 10 - body language and emotional intelligence
Chapter 11 - inspiring creativity: let's talk
Chapter 12 - inspiring creativity: let's draw
Chapter 13 - inspiring creativity: let's play
Chapter 14 - being Human (how essential humanity and way of being have an impact in our connections and conversations)
Chapter 15 - Inspiring others
Chapter 16 - reflecting on practice
About the author
Dr Christian van Nieuwerburgh is at the top of his field as an academic, as an executive coach, as an educator, and as a consultant. This combination makes this book a one of a kind that brilliantly weaves together scientific theory, research, and practice.
He is the executive director of growth coaching international and the head of the coaching and positive psychology program at the university of east london.
Chapter 1 - first things first 
This first chapter looks at what coaching is and what's it's purpose is.
So in a nutshell it covers what you'll be learning to do, which is...
Facilitating performance, learning, and development
Unlocking people's potential
Maximising another's performance
Promoting desirable and sustainable change
Empowering people by facilitating self-directed learning and personal growth
This can be done within organisations, as a one to one coach, within educational settings, health settings, or as part of a leadership role.  
Chapter 1 also covers how this book intends to help you, and includes an outline of all the chapters within.
Chapter 2 - Becoming a Coach
Chapter 2 introduces the basics of what it means to be a coach, different types of coaching, and what a typical coaching session looks like.
It discusses the many factors that'll lead to you creating successful outcomes.
I found this chapter to have great detail and powerful information throughout.
Here is just a taster of some of the things discussed that lead to desirable outcomes: 
Create a working alliance where both people want to do it
Warmth, attentiveness, and positivity
Ability to cultivate hope and positive expectations in others
The nature and quality of the relationship
Positive expectation or hope within the coach
A focus on the clients self-identified strengths that will help the problem
Ability to understand and have the client feel understood
Having a high opinion of the client
The client discovering their own key
It could be argued that in some way, these factors are important in all relationships, and that focusing on improving one of these areas would invariably be a wise step forwards.
Chapter 3 - Listening to encourage thinking
Chapter 3, which I found to be fascinating, explores the power and importance of listening.

In particular, I found the authors insights on the significance of the Intent behind listening to be amazing.
This chapter includes loads of great and practical tips to improve the quality of our listening including things to avoid and some typical errors.
It's full of brilliant and often funny stories from real life that bring each point to life and insightful activities to try out.
One of the most interesting concepts taught for me was the different 4 levels of quality listening (see pictures below).
Chapter 4 - Asking powerful questions
Again in chapter 4, I'm struck by the activities. Simple games to try out that bring the concepts to life (see picture for example).
In this chapter various types of questions, the importance of wording of questions, and the multiple motives behind asking a question are explored brilliantly.
Amazing how this book seems to be so succinct and also full of great detail. Every paragraph feels laden with useful information and sure to contain a golden nugget.
I imagine you'll find these skills being super useful as a parent just as much as for teachers or managers for example.
I left this chapter excited about the power and impact of asking even one thought provoking question... I was intrigued by the idea that a single question can open up a whole new world of creative thought.
One example I loved was, "if all of your management team resigned tomorrow, and you were given full control of the strategic direction of this organisation, what would you propose?". If you like this, expect loads more of this kind of thing.
I found in particular the detail on different intents and how that can impact the answer impressive. Crystal clear with excellent examples. Again, I'm excited to use this stuff on myself. Imagine the questions I can ask myself. I could integrate this into my diary writing and personal business planning. It really seems the potential use is without limit.
Chapter 5 - Paraphrasing and Summarising
If like me you're excited by the potential of a conversation then this chapter will be an amazing read. When to paraphrase, how to paraphrase, why you paraphrase...
It's all here in the usual amazing clear cut way. And the same for summarising. Again, I'm not coaching myself but I'll be using these powerful tools in all kinds of ways in my life for sure.
I love the various snapshot sections (see image) including useful phrases to use. Again, the author makes it easy for the reader to go away and try this out.
Chapter 6 - Giving and Receiving Feedback
The powerful real-life examples really stirred up the desire in me to be better at giving helpful feedback to people in a respectful way.
Putting yourself in the shoes of the other person and thinking about when feedback would be desirable from their position was really revealing.
The way the author acknowledges the difficulty of giving feedback and how it's Human nature for the receiver to become defensive... and the suggestions for overcoming this were fascinating.
Here's a taster "the feedback should never be diluted. Instead concentrate on two factors: the strength of the relationship and the clarity of the information provided" and "provide accurate and timely feedback if this will help the coachee achieve her goals"
Again full of powerful examples of what not to do like sugar coating and watering down feedback, as well as what works.
Chapter 7 - Coaching processes
This chapter looks in detail at conversational structures that support goal setting and attainment... in particular the GROW model and some adaptations (see pics). The GROW process helps people to create the most useful changes in thinking and behaviour in relation to their goal.
After reading this chapter several times I've found the grow model as useful in conversations with myself as in conversations with those around me.
I've even used it to manage situations with multiple parties involved to think through what each party wants, what's getting in the way, and what they may be thinking about how to get there. Considering multiple motives has been just one way the GROW model has been an amazing tool for me.
It really is an incredible model that all people could benefit from understanding, and this chapter explains it brilliantly.
Chapter 8 - Beyond Behaviour - Exploring our thinking 
Does a change in thinking lead to a change in behaviour? Or is it the other way around? Which approach is the best way?
This chapter considers the importance in our thoughts and beliefs in supporting achievement of our goals.
I found the examples, and suggested questions to be especially useful. More than anything however, I'm excited to refresh my desire to be aware of my performance inhibiting thoughts, which are said by psychologists to get in the way of us achieving what we set out to.
So interesting!
Chapter 9 - Bias towards the positive
This chapter looks at the use of solution focused approaches and positive psychology in supporting goal setting and achievement.  
A superb example of working on someone's goal with a scale of 1-10 from a real-life coaching session is used. I found myself coaching myself while reading it... It's hard to resist when it's so easily applicable. It was particularly interesting to delve into the miracle question in some detail...
...it goes something like this... think of your goal. Imagine a miracle happened tonight while you were sleeping and your goal was completely realised. How would you know tomorrow morning that the miracle had happened? How would others behave? How would you be behaving? How would you be feeling? What would be different?
The idea is to take the motivational power from this and then use it to create ideas for small steps towards that exciting vision. I really liked this approach.
Chapter 10 - Body Language and Emotional Intelligence 
Fascinating chapter that really got me curious. The authors decades of experience seem to jump off the pages. And once again, the activities really bring the whole chapter into the realm of personal experience. Was it Abraham Lincoln that said, tell me I forget,  teach me I remember, involve me I learn. Well this author is clearly an educational expert as at every stage he involves the reader making this far far more than just a book with information. It's an impossible to forget, life experience.  
I really love the authors sense of humour throughout as well... the way he weaves in little jokes to lighter the journey.
Reading this book is like receiving a warm hug at times. The stories from practice really highlight the sensitivity and consideration that the author has with his clients, and I find these an inspiring thing to work towards.
Chapters 11, 12, 13 - Inspiring Creativity, Let's talk, draw, play
I'm in love with these 3 chapters. It really opens my eyes about how goal setting can be fun and how a creative exercise has the potential to unlock and reveal so much. All conversations should have such creativity!
Take for example, the directors chair (see pictures), where you're encouraged to be the director of the movie/play of your life. Powerful questions and frameworks are used to guide you through the process and help you guide others through it.
You'll end up with an amazing tool box of powerful exercises and activities that will allow you to tap into the dreams and creative abilities of the people in your life.
They'll be so grateful. And the author has great tips about how you might want to introduce and delve further into each activity, including the best timing for using them. There are a total of 22 amazing tools and techniques for you to learn and use on both yourself and others.
Why not work through one with a friend?
Chapter 14 - Being Human 
Chapter 14 explores how essential humanity and way of being have an impact in our connections and conversations.
You'll look at the idea that there's something beyond doing the skills, having loads of techniques and tools to use, being aware of multiple models and structures that'll help... there is something important that kind of underpins it all, called by the author, as a way of being.
It explores some of the attributes that a successful coach will have based on the work of Carl Rodgers and Jim knight.
Why does being humble, genuinely caring about people, believing in the person in front of you, and treating each person with respect lead to more achievement from them? Insightful thoughts experience will have you aspiring for greater levels of being human.
Chapter 15 - Inspiring Others
This chapter looks at how a coaching approach can be used outside of 1-2-1 coaching... for example as a leader in an organisation while managing a team, developing a culture, or leading some change. Also coaching skills and a coaching way of being might be especially helpful for parents, educators, or trainers.
I couldn't agree more. If you want to inspire others in whatever you do and have a positive impact of those in your life, then there's gonna be plenty in this chapter for you, including to mention a few examples, believing in others and the self fulfilling prophecy, showing an interest in people, allowing choices, and encouraging the setting of meaningful goals.
Chapter 16 - Conclusion
The final chapter covers a few important final notes for readers. This final chapter is perhaps most relevant for those looking to be a 1-2-1 coach full-time but non-coaches may still find it useful. Ethics, moments of choice, reflective practice, and supervision are discussed.
What rating do I give this book?
Without a doubt I give this book 5/5.
If you're interested in unlocking people's potential, helping others grow, perform and achieve more, and empowering the people around you, this book is sure to become a life-long companion